Ragnar Kjartansson
Barbican Art Gallery, London
by JOHN PARTON
Ragnar Kjartansson's mother stares silently into the camera before turning to her son to spit noisily into his face. She wipes her mouth, turns back to the camera, pauses briefly for dramatic effect, and then turns to spit at him again.
Me and My Mother (2015; Fig.01) is one of a series of four similar video works Kjartansson has made with his mother, Guðrún Ásmundsdóttir. Each repeats the same format: mother and son stand side-by-side blankly facing the camera; mother repeatedly turns to expectorate into her son's face. Together, the works total 50 minutes of repeated spitting, and in this large and multiform survey of Kjartansson's work at the Barbican Art Gallery they are played over and again in an endlessly repeated loop.
Repetition is ubiquitous in the show. Across from Me and My Mother is Guilt Trip (2007), a video work in which a brusque-looking middle-aged man wanders around a frozen-white landscape bearing a large shotgun and a bright yellow shopping bag full of shells. At regular intervals he rifles through the bag, loads and cocks the gun, then nonchalantly fires it off into the leaden sky. When the smoke has cleared he determinedly reloads and re-fires – over and over again. God (2007; Fig.02), meanwhile, sees a tuxedoed Kjartansson back in front of the camera, this time endlessly crooning the same line, 'Sorrow conquers happiness', for 30 minutes, while The End – Venezia (2009) consists of 144 oil-on-canvas portraits, each of Kjartansson's friend Páll Haukur Björnsson.
Central to all this repetition is a celebration of performance and showmanship. Kjartansson's background in the performing arts is well documented – he has been in and out of various bands since a teenager, his mother is a well-known actress and his father acted and directed at the Reykjavík City Theatre. A three-minute clip from the 1977 film 'Morðsaga' (Murder Story) – the first Icelandic-made feature film, which also, incidentally, stars both of Kjartansson's parents – is projected onto one of the walls at the entrance to the show. The scene sees Kjartansson's father (playing a plumber) absurdly seduced by his mother (playing a lonely mother) over a broken dishwasher, all shot in cringing soft-focus. Accompanying the clip, which is played on loop – naturally – are a group of ten musicians who lounge and wander among cushions, old sofas and piles of empty beer bottles, earnestly strumming at guitars and each singing his own separate, mournful harmony. The rabble of troubadours, their ramshackle props and the projected love scene together form the 8-hour performance installation Take Me Here by the Dishwasher: Memorial for a Marriage (2011–2014). This large piece dominates the central opening space of the gallery and the soft, repeated echoes of its performers accompany you around most of the rest of the show.
These reverberating reminders of the show's opening centrepiece serve to elevate it to more than a static survey – the Barbican has been transformed into what comes to feel like a large sound stage-come-studio complex for Kjartansson's experimental output, energy and sheer enthusiasm. At any point he is expected to pop out of a stage door, director's megaphone in hand, to adjust a costume, have a word with an actor, or cajole you into joining a performance. In this sense, the show has combined the unfettered, edgy productivity of Warhol's Silver Factory with the desperate and detailed obsession of Tom McCarthy's unnamed protagonist in his novel Remainder.
The work misses, though, the creeping sordidness of some of Warhol's more casually shot movies (Drunk, aka Drink, or Eat, for example) and lacks the sense of an unsatisfied addiction to performance that haunts McCarthy's novel. Simply put, Kjartansson seems to be having too much fun. There are moments where the stamina required for some of the works becomes telling. For A Lot of Sorrow (2013–14), Kjartansson somehow managed to persuade American rock band The National to perform the same song at MOMA PS1, without pause, for six hours. There is a point in the resulting film where the front man looks exhausted and the music may have to stop. Yet the sudden appearance on stage of a smiling Kjartansson, bringing fresh beers, a platter of hotdogs and an infectious grin keeps the show on the road.
Many of the milestones in what has become to be understood as the canon of Western modern performance art involve pain, bloody-minded determination or, at base, some form of extreme suffering from the artist. The violence of Chris Burden's Shoot, for example, is startling, while, for I Like America and America Like Me, Josef Beuys risked the ire of a wild coyote. Kjartansson's works are different; no less centred on performance, but at the root of many of them is a swaggering enthusiasm for the persona of the performer and an investigation of his or her role in engaging, coaxing and entertaining the audience, rather than brusquely shocking or impressing.
Where the show becomes less interesting are in the few sections where performance plays no immediate role. Die Nacht der Hochzeit (2015–2016) is a series of watercolour paintings, each depicting what looks to be an ethereal purple-black night sky. Aside from offering a brief pause from the onslaught of madcap performance going on elsewhere in the building, the works pale.
In contrast, at the back of the gallery is a sound-proofed door that leads to a final gallery. Within is a large room dedicated to the glorious nine-channel video installation The Visitors (2012; Fig.03), a grandiose 64-minute performance by Kjartansson and eight other musicians projected synchronously onto a series of large screens. The work is, again, driven by Kjartansson's sheer enthusiasm and joy in performance. He performs from a bath until the very end, at which point he hops out to join the rest of the cast, who assemble to celebrate their work. The sight of Kjartansson, still glistening with suds and wearing only a towel, yet merrily embracing his fellow performers, becomes a defining image of the exhibition and of an artist clearly enraptured by the joy of the show.
Me and my mother, by Ragnar Kjartansson. 2015. Single-channel video, colour, sound.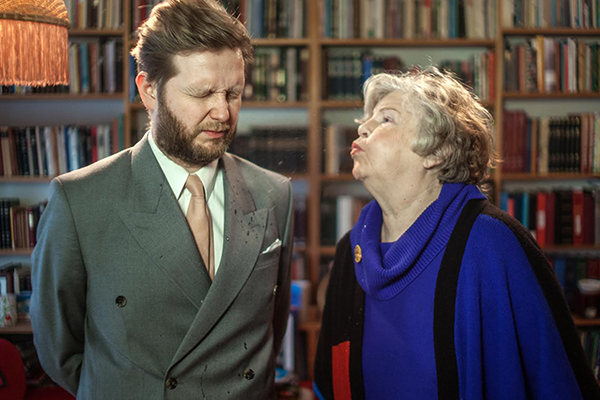 God, by Ragnar Kjartansson. 2007. Single-channel video, colour, sound.
The visitors, by Ragnar Kjartansson. 2012. Nine-screen video installation.